As the demand for coworking spaces continues to grow, the prices of shared workspaces are becoming an increasingly important consideration for freelancers, entrepreneurs, and small business owners. With so many options available, it can be difficult to determine what constitutes a fair coworking space cost, and what factors are most important in determining the total cost of a membership.
In this article, we'll explore coworking prices, as well as the key factors that influence those prices. Whether you're a startup on a shoestring budget, a freelancer looking to upgrade your workspace, or an ultra-rich New York business professional looking for a $3,000 per month coworking space, understanding the coworking space cost can help you make an informed decision that best fits your needs and budget
What Makes Coworking Valuable
Many remote workers don't mind spending the workday at home, asking us, "Why would I pay money to work in a coworking space when I can work from my little home office?" Coworking certainly isn't for everyone, but it can be well worth the cost for most professionals that are working without an office.
One of the biggest draws of coworking spaces is the community they foster. Rather than working alone at home or in a coffee shop, coworking members can interact with like-minded professionals on a daily basis. This community can provide networking opportunities, potential partnerships, and a sense of camaraderie that can be difficult to find when working alone.
In addition to the network benefits, coworking spaces can also offer access to valuable resources such as high-speed internet, meeting rooms, and office equipment. For entrepreneurs and small business owners, this can be a game-changer, as it allows them to present a more professional image without the overhead costs of a traditional office space.
Finally, coworking spaces can provide a level of flexibility that is difficult to find with a traditional office space. Members can typically choose from a range of membership options, from hot desks to dedicated private offices, allowing them to find a solution that best fits their needs and budget. This flexibility also extends to the working hours and location, with many coworking spaces open 24/7 and available in multiple locations, making it easy for members to work when and where they need to. Overall, such flexibility often leads to large cost savings when compared to traditional office space options.
In summary, coworking spaces offer a valuable combination of community, resources, and flexibility, making them an attractive option for professionals, startups, and hybrid teams looking for a productive and collaborative work environment.
The Basic Coworking Membership Options and Today's Prices
Coworking spaces come in a range of shapes and sizes, and as such, the price can vary widely depending on factors such as location, amenities, and membership type. The average cost of a coworking space in United States metropolises varies from $200-$300 for the most basic membership (i.e., open workspace), with prices ranging from $100 per month for a hot desk in a smaller city, to over $500 per month for a hot desk in a bustling business center.
Unsurprisingly, the cost of coworking spaces tends to be much higher in larger cities such as New York, San Francisco, and Los Angeles, where demand is high, and real estate costs are at a premium. However, it's worth noting that coworking spaces can still be found at a reasonable price point in these areas, particularly if you're willing to opt for a hot desk or more flexible membership, such as an 8-day per month pass.
Beyond location, the amenities and services included in the coworking space can also have a significant impact on the price. For example, a space that includes high-end amenities such as a fitness center, dog-friendly amenities, or on-site cafe will command a higher monthly fee than a small, more basic office space.
Although there is a large variation in coworking membership pricing, many coworking spaces in big cities across the United States offer a variation of the following membership options and prices:
Hot desks (open workspace) – Open workspace memberships allow members to work in the shared spaces (e.g. shared desks, phone rooms, conference rooms, kitchen). These members do not receive a dedicated desk to work but can roam around the shared space and work as desired. This is often the cheapest membership option. Prices typically range from $200 to $300 per month, with cheaper options for limited-access memberships.*
Dedicated desks – Dedicated desk memberships provide professionals with a desk to call their own. Having the same desk day-to-day is helpful for those who have a particular work setup (e.g. monitors) and want a more private space to work than the open workspace. It is common for these memberships to also come with lockable desk drawers as well as access to all shared workspaces that open workspace memberships receive. Prices typically range from $350 to $450 per month.*
Private offices – This is exactly what it sounds like. These memberships resemble short-term mini office leases and provide private, lockable space for 1-10+ person teams. Like dedicated desk memberships, private office members typically receive access to all the same shared workspaces that open workspace members have. This makes private offices an especially valuable option for growing and hybrid teams who need workspace flexibility. One-person private offices typically start at $600+ per month.*
Other services and addons – Beyond the three membership options listed above, many coworking spaces will have a number of additional offerings. For instance, many spaces charge for conference room access beyond a basic monthly allowance, if needed. Larger coworking spaces typically provide services for growing businesses, such as mail and admin services.
*You can expect prices in some of the nation's trendiest and costliest zip codes (especially in select urban neighborhoods in New York, Florida, and California) to be up to 50% higher than the price ranges shown here.

How much does Coworking Space Cost? Key Considerations.
Although most coworking spaces follow a monthly membership pricing model, there are multiple things to consider besides the monthly flat per user membership fee when trying to understand how much a coworking space costs.
Frequency and Times of Access
Coworking spaces often offer multiple levels of the same membership option based on the frequency and total availability of member access. For instance, many spaces charge open workspace members more for 24/7 access than for access only during business hours. Although we provide 24/7 access to all paying members at Olio Coworking, some spaces will charge up to 50%-100% more for access outside of standard business hours.
Similarly, many coworking spaces will offer cheaper open workspace memberships that allow access to the space for only a certain number of days each month. This can be helpful for those on a budget or for anyone who does not expect to use the coworking space most weekdays.
Multi-Member and Guest Charges – Flexibility for Agile & Unpredictable Teams
We have already pointed out that coworking spaces derive much of their value through their flexible offering to professionals and teams, especially hybrid teams. However, with many different pricing structures for multi-member teams, some friendlier than others, this becomes an extremely important, and often overlooked, consideration of teams trying to understand coworking costs.
For example, imagine a team of thirty local realtors who spend most of their time outside of the office with clients but still want the chance to occasionally get paperwork done in a professional setting. Furthermore, many of the team members would like to meet and learn from their coworkers. 
The real estate brokerage needs office space to attract and retain realtors. However, in all likelihood, no more than ten realtors will use an office space in a given day. Nonetheless, there may be some team building days where all thirty would visit an office. Could the real estate firm get an eight-person private office at a coworking space then use the open workspace and conference rooms for days when more than eight team members come into the office? How much will this be priced?
Although the answer to that question depends on the space, many coworking spaces today would charge the thirty-person real estate brokerage the standard price for the eight-person office then charge for twenty-two limited-access open workspace memberships (thirty-person team minus the eight seats that come with the private office). This pricing structure can get very expensive.
Other coworking spaces may offer generous guest policies, allowing the realtors who are expected to use the space less frequently to access the space as unpaid guests of the paid members. You can see why this becomes an important consideration for teams who need flexibility.
Being a boutique coworking space, Olio Coworking offers more flexibility to teams than most, often allowing a larger hybrid team to share a private office while occasionally relying on open workspaces for overflow when needed. This highlights an advantage of smaller local coworking communities—they are often more adaptable to meet your needs.
Like gym memberships, many coworking spaces offer a certain number of free guest passes per member. Once the guest passes are used in a given period, guests will be required to pay for a day pass (usually discounted) to access the space. These passes typically range between $20 and $40 per day.
Large coworking operators often open multiple of their locations to members, a valuable offering for those who travel lots or want to explore new communities. Full access to all available locations often comes with an additional charge. For example, WeWork Global, unlimited open workspace access to all WeWork locations, costs $430/month. This is compared to $200-$300/month for WeWork's more basic open workspace memberships in most metro areas.
Many spaces charge for conference room access beyond a basic monthly allowance. For example, Olio Coworking open workspace members receive 2 hours of monthly conference room time credits and dedicated desk members receive 4 hours. For those members who need the conference room more in a given month, they are charged $20 per hour. For spaces with larger conference and presentation rooms available, hourly rates may exceed $200 per hour.
Minimum Sign Up Period and Cancellation Fees
Beyond private offices, many coworking memberships are month-to-month. However, some memberships, especially for dedicated desks, begin with a minimum signup term. Other memberships may have a cancellation fee if a proper cancellation notice is given (e.g., 30 days).
To discourage flaky members and membership churn (and to cover "new member signup costs"), many coworking spaces charge a signup fee. Although signup fees are typically $100 or less, some premium coworking spaces, especially those who are focused on professional networks, may charge $300+ per new member in signup fees. With some light negotiations, many coworking spaces may drop this fee.
Furnishings and Cleaning Fees
Although private offices often come furnished and include periodic cleaning services, many coworking spaces will charge extra for nonstandard furnishings and cleaning accommodations.
Many coworking spaces will offer a certain amount of printing credits with all memberships. For instance, once WeWork members pass their monthly allowance (60 pages per month for many memberships), WeWork charges members $0.15 per black and white page printed and $0.70 per color page printed in the United States.
Other Professional Services & Paid Amenities
Coworking spaces want to help their members succeed. Because of this, many coworking spaces will offer additional professional services, such as registered mail and assistance services. And for local businesses who need a local address but no office, many coworking spaces offer a virtual mail address for $40-$100 per month.
Some trendy spaces today also offer paid wellness, coaching, and professional networking and mentoring memberships/addons to its members. Such offerings are typically found at premium spaces focused on a particular niche, like fitness or startup junkies.
Networks & Free Amenities
When doing a cost-benefit analysis during your coworking search, it is important to also consider unpaid benefits from the community's network and other free amenities available to members (storage, locker rooms, parking, coffee, tea, beer, free meals, etc.). Popular spaces today provide access to some of the best startup and tech networks in the world. For many ambitious founders, this is invaluable.
In select states, coworking memberships will be subject to a sales tax. Although not a concern in most states, it may increase your monthly bill by a few percent in others.
Discounts are often available to certain members. These include multi-member teams, nonprofits, business owners, and those who commit to multiple months at signup. Don't forget to ask the coworking space about discounts before signing up—many have more discretion to give discounts than they like to admit.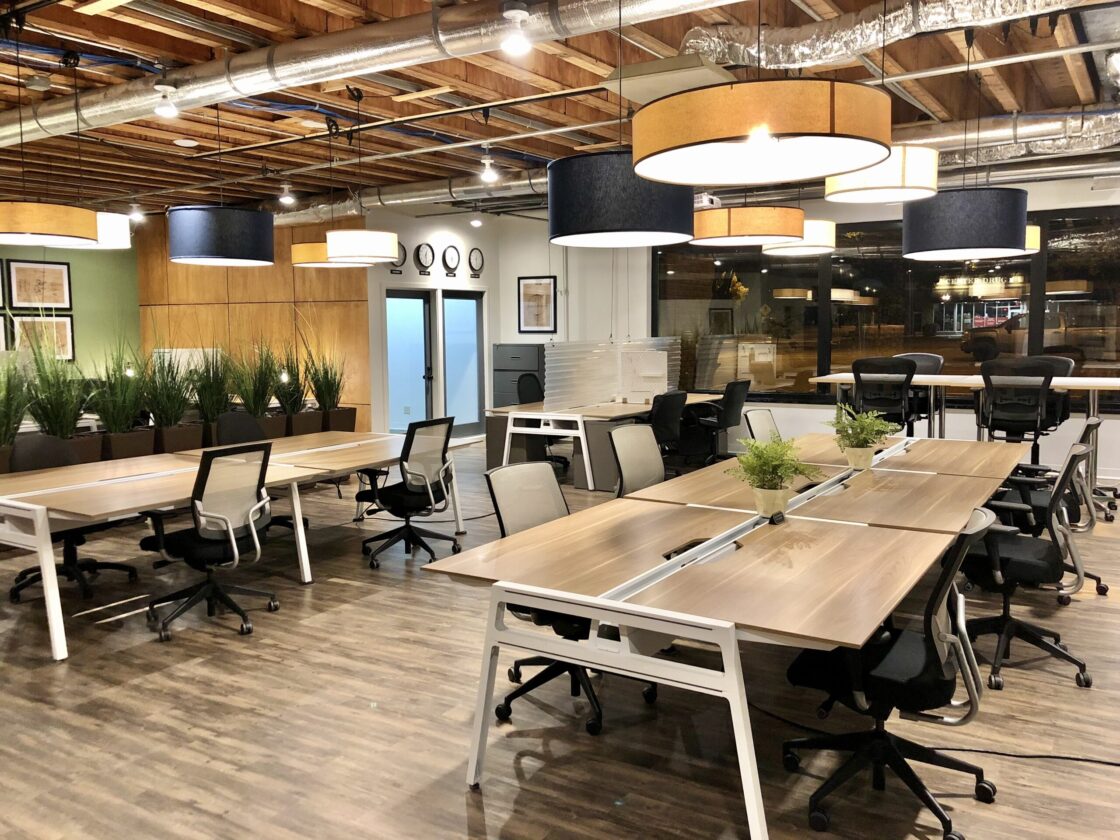 Photo: Olio Coworking in Hopkins, MN
Closer to Home – Coworking Prices in the Twin Cities, MN
If you're in the Minneapolis–St. Paul Metro like we are, you may be wondering what typical coworking prices are in the area. Today, the Twin Cities metro has nearly one hundred coworking and flexible office spaces. Looking at modern coworking spaces in the Metro, our analysis shows that average pricing is as follows:
Day Pass: $30 per day
Open Workspace: $220 per month
Dedicated Desk: $387 per month
Private Office: average starting price is $710 per month
Again, with a wide range of amenities and potential addon costs, it can be difficult to compare prices between coworking spaces and determine whether a membership is worth the cost. That's why at Olio Coworking, we recommend everyone try a free 14-day trial before signing up for a membership. 
If you know what you're looking for and intentionally maximize the value of your coworking membership, coworking will likely be well worth the cost. Hopefully this pricing guide has been helpful in more fully understanding important cost considerations of joining a coworking space in 2023.