Starting a coworking space is an exciting proposition in today's digital world. I mean, who wouldn't want to enter a market with an expected growth rate of 17.0% and expected market size of $30.36 billion through 2026? (Learn more here) Here is a step-by-step roadmap you can follow as you pursue the opening of your first of many coworking locations.
How to Start a Coworking Space in 10 Steps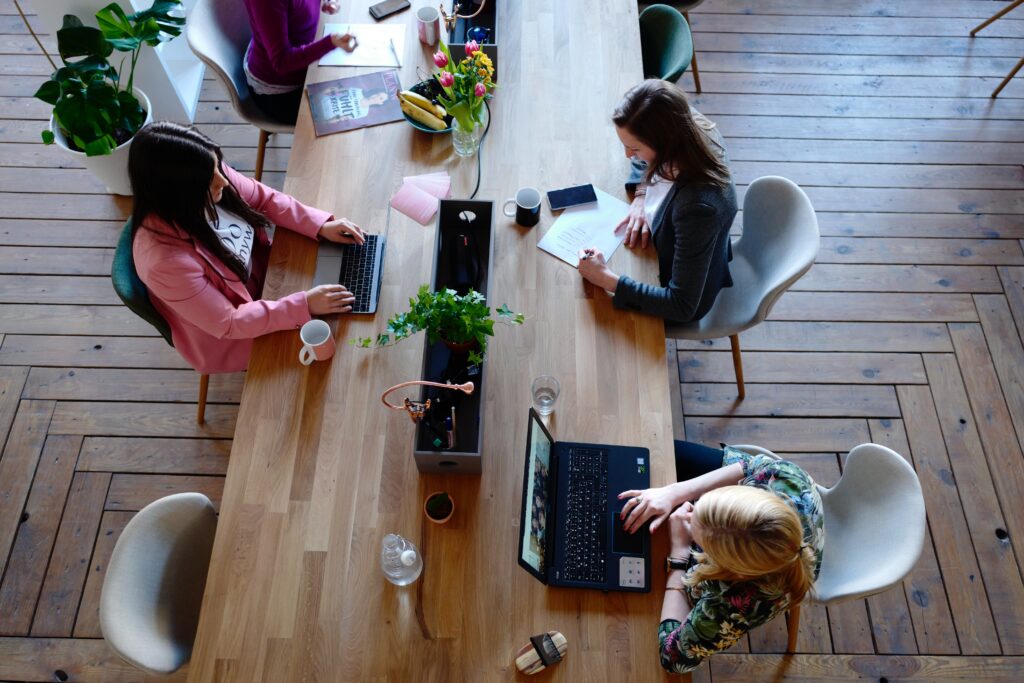 1. Create a Business Plan
Don't create a business plan that takes months to develop, with a high-fidelity design, and perfectly articulated day-to-day forecast. What we recommend in a business plan, is creating a rough outline where you answer a bunch of questions prior to opening your coworking business. At Olio Coworking, we've always found that if you can answer the following questions, you're on the right track to opening a successful space:
What is your reason for wanting to open a coworking space?

Do you want to make a living off your coworking space?

Do you want to build a community of like-minded individuals?

Do you want to create a space where you can house your own startup?

Do you want to create a chain of spaces that lead to world domination?

Is your coworking space for profit, for community, or both?
What type of problem are you trying to solve?
Is there high demand for a workspace in a certain community?

Does a niche group or industry need a space to come together and work?

Do you own a property that is underutilized?

Are there no real coworking spaces in an area full of a dense population?
What is your coworking business model?
Is your coworking space a premium facility or an affordable solution?

Is your space designed around a specific group of people?

Does your space primarily generate income through Open Desks, Dedicated Desks, Meeting Rooms, and Private Offices?

Do you offer any additional services or amenities? For example:

Gym

Workshops

Virtual office services

Mail

Recording studio

Food and drink
What are your business goals?
Breakeven after X months?

Generate $X in revenue?

What are your quarterly goals and how will you hold yourself accountable?
Will you answer the calls when new leads call?

Will you answer the calls related to coworker complaints or needs (toilet paper, coffee, messy conference room, etc.)?

Will you give tours of the space to new members?

Will you need someone to clean the space daily and weekly?

Will you manage operations and technology?

Will you conduct billing each month?

Will you do the repairs that pop up throughout the space?

Will you keep the office supplies stocked?
What type of investment are you going to make?
How much capital will you need to setup the space?



Building lease

Renovations

Furniture

Décor

Kitchen supplies

Technology (internet, televisions, printer)

Utilities
How much capital will be necessary for the operational costs?

Software costs

Office supplies

Maintenance

Salaries

Cleaning supplies
How much capital will be required to get coworkers in the door?
What are some large purchases needed as your space develops and grows?
How will you layout your space?
What coworking membership plans will you offer and how will you design the space to meet those membership needs?

Open Workspace

Dedicated Desks

Private Offices

Private Meeting Rooms
What personality will your space take on?
How will you deal with noise?

White noise

Music

Phone rooms
Where will you be located?
2. Figure out the costs of setting up and running a coworking space.
When starting a coworking space, you will find that your costs can be broken down into three parts: Initial Set Up Costs and Space Improvements, General Operating Costs, and Member Benefits and Other Miscellaneous Costs.
The costs associated with setting up a coworking space will vary significantly based on the following:
Size of the space

Quality of the furniture and décor

The needs of your coworking community

The real estate prices in your local area
With those variables in mind, here are the basic set up costs you should account for when opening your space, some of which will be ongoing operating costs as well:
Rent or mortgage

Furniture and equipment

Chairs

Desks

TVs

Speakers

Wireless routers

Build out costs

Interior design

Plumbing

Painting

Electrician work

Carpentry

Technology and security installations

Insurance

Marketing and advertising

Basic cleaning supplies, coffee, water, bathroom supplies, trash cans, light bulbs, silverware, glasses, towels, etc.

Legal and accounting fees

Additional remodels
After you get your space up and running, you'll start incurring General Operating Costs. All these costs aren't a NEED to do business, but it is wise to consider all your options prior to opening:
Rent or mortgage for the property

Office supplies

Insurance

Marketing and web costs (including a member management software)

Legal and accounting fees

Maintenance and cleaning

Technology and IT Fees

Staff and Salaries

Security software

Space maintenance
Lastly, once you are up and running, you will likely choose to improve the experience for your coworkers. Investing in your coworking community is very important for member retention. For example, at Olio Coworking, we do the following:
Purchase lunch every other Friday for all our coworkers.

Have daily snacks prepared for the coworkers.

Offer teas, coffee, etc.

Invite coworkers to join in a loyalty program for members.

Host weekly trivia with prizes.

Run a small community-based art gallery in our hallways.
Ultimately the costs associated with starting a coworking space can be summed up like this: Your costs will vary depending on the size, location, amenities offered, and the target demographic you are aiming to please. You can open a 1,000 sqft space for $10,000 or build out space like WeWork (check it out here) for $118 million. No matter what direction you decide to go, be sure to budget prior to starting so the cost of starting doesn't end up putting you behind the eight-ball when you officially open to the public.
3. Decide what business name suits you.
With more and more coworking spaces opening every day, it's important to spend time choosing a name for your space that will stand out amongst the crowd. There are corporations that will create names for you (some of these services cost $40,000 – $100,000!), but we are going to assume that you aren't Elon Musk looking to open a small office space, therefore, consider following this step-by-step process to create an awesome name for your new business:
(1) Define your coworking space's values and mission: Consider what your business stands for, what makes it unique, and what you want to communicate through your name.
(2) Conduct market research: Research your competitors and target audience to see what names are being used and what kind of names resonate with your target audience. Here are some popular coworking brand names:
WeWork

NextSpace
Impact Hub
Regus
Spaces
TechSpace
Industrious
Lifetime Work
(3) Generate ideas: Write down a list of potential names, brainstorm with friends or colleagues and consider any relevant words or phrases that are related to your business.

(4) Evaluate each name: Review your list of potential names and consider how each name relates to your brand, how easily it can be pronounced and spelled, what related domains are available, and how memorable it is.

(5) Check for trademarks: Before settling on a name, make sure it's not already taken or trademarked by someone else. You can use websites like the US Patent and Trademark Office to search for existing trademarks.

(6) Get feedback: Ask friends, family, and colleagues for their opinions on your name choices and take their feedback into account.
(8) Make a final decision: Choose the name that best represents your brand, appeals to your target audience, and is memorable, easy to spell and pronounce, and available for use.

(9) Register your business name: Once you have chosen a name, register it with the relevant government agencies and secure any necessary trademarks.
These steps, or a variation of these steps, should help with the creativity and research needed to form a brand name that is memorable, relevant, and effective in communicating your brand and mission to your target audience.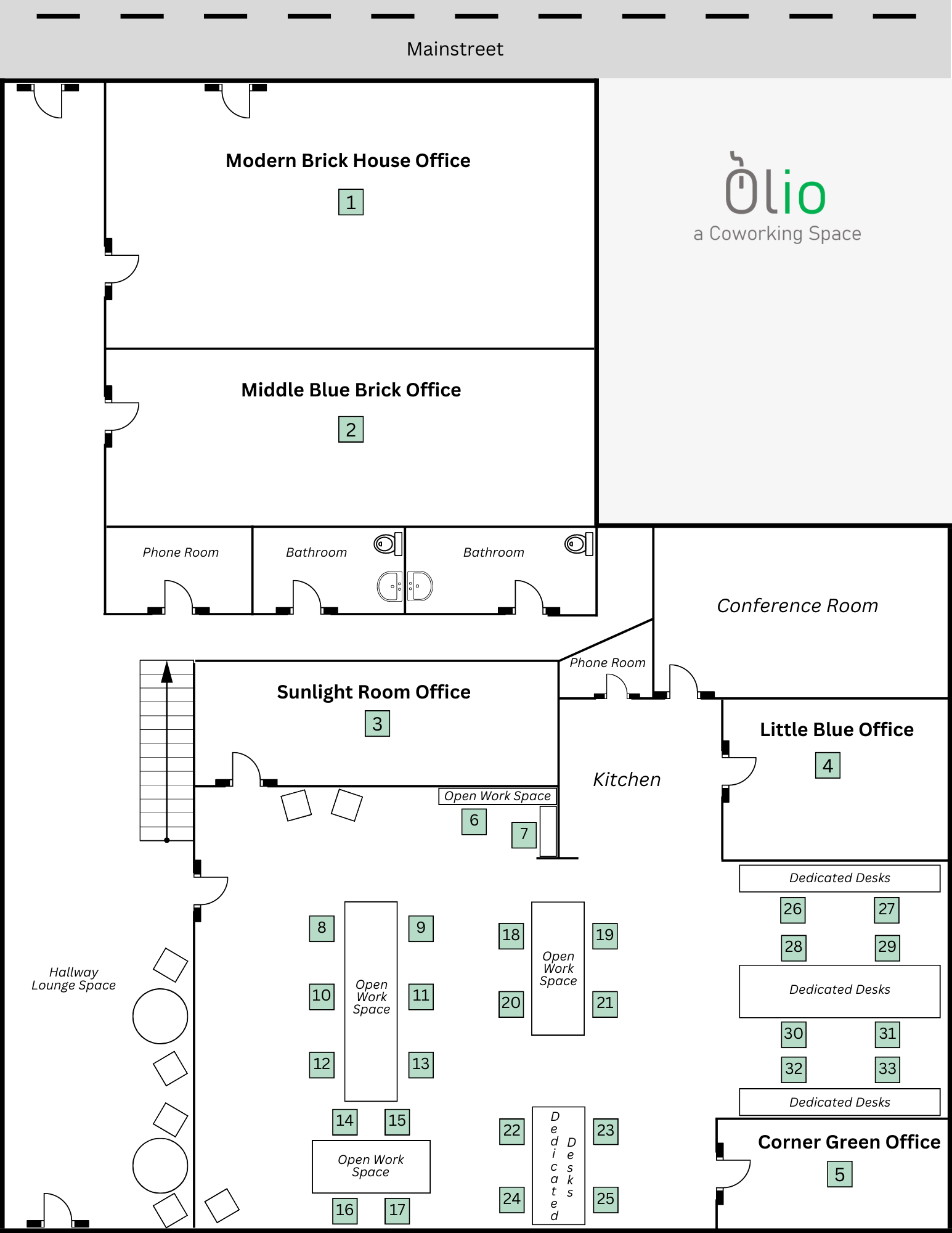 4. Find a space and design your layout.
The way you lay out your space will determine the revenue you can produce, the type of coworkers you'll attract, and the productivity of your users. Broadly speaking, it's wise to consider a few design strategies when creating your space.
Offer a flexible, modular design that offers a mix of private and communal spaces that can be easily reconfigured as needed, allowing users to switch between solo and collaborative work.

Provide ample natural light through windows or skylights and use lighting options around the space that are easy on the eyes and adjustable to individual needs.

Plan the space to have ample storage for personal belongings (bike storage?), work materials, and snacks!

Provide furniture that's both comfortable and user friendly. A lot of people love the idea of standing desks, but if standing desks don't align with your space's design, be sure to have high-top desks and sitting desks as options. Your furniture should cater to different working styles.

Ensure that the space is equipped with high-speed internet, lots of outlets, and other technology support a common high-end office would be equipped with. Make sure the space is designed in a way that you don't have "dead" spots where the internet fails, or you can't plug in to a power source.

Consider the aesthetics of the space, creating an interior design and décor that's inviting and inspires creativity.
After the general design of your space is nailed down, you must decide on the ideal allocation of furniture within your space. Each coworking space is different. For example, Olio Coworking has a space breakdown of roughly 30% Open Workspace, 20% Dedicated Desks, 20% Common Space & Meeting Rooms, and 30% Offices. And to be blunt, Olio could use more offices and less Open Workspace. With that being said, your space layout will depend on the target audience, location, and intended use of the space. However, a general guideline is often:
Open space: 40-60% of the space can be dedicated to open, flexible work areas. This can include a mix of communal worktables, individual desks, and lounge seating areas.

Dedicated desks: 20-30% of the space can be dedicated to members who require a more permanent workstation. This could include a designated desk or private cubicle.

Private offices: 10-20% of the space can be dedicated to private offices for members who require more privacy and a dedicated work environment.

Meeting rooms & Phone Rooms: 5-10% of the space can be dedicated to meeting rooms for members to conduct private meetings or presentations.
To reiterate, the exact allocation of space in a coworking space will vary depending on the needs and preferences of your target audience. It is possible that a higher proportion of private offices may be in demand, especially among small businesses and startups.
In such cases, the allocation of space could be adjusted to allocate a larger percentage of space to private offices and a smaller percentage to open work areas and communal spaces. The key is to be flexible and adapt to the changing needs of your members.
It's always a good idea to conduct market research and gather feedback from potential members to determine their specific needs and preferences. This information can help guide your decision-making process and ensure that your coworking space is well-equipped to meet the needs of your target audience.
5. Set up a financial model that works.
When starting a coworking business, you can spend a whole lot of money very quickly. You NEED to create a financial model before you sign a rental contract or come close to opening the space. A full article could be written on this topic alone, so we will briefly touch on a few key components to consider when building your own financial model:
Identify your revenue streams: This could include monthly membership fees for open workspace, dedicated desks, and offices, meeting room rentals, day passes, holding mail, secretarial services, and much more. Get creative with it!

Operating expenses: This includes rent, utilities, salaries, marketing, insurance, and other general business expenses previously discussed.

Capital expenditures: This includes one-time costs such as furniture, equipment, and build-out expenses.

Cash flow projections: This includes projections of inflows and outflows of cash, taking into account the above components, to determine your cash needs.

Breakeven analysis: This determines the point at which the business will cover its operating expenses and start generating a profit.

Sensitivity analysis: This involves evaluating how changes in certain variables, such as membership fees or operating expenses, would impact the financial health of the business.
Overall, a good financial model should provide a comprehensive understanding of the costs and revenue streams involved in operating your coworking space. If you want more information on financial modeling, let us know, and we can help create your own coworking space projections.
6. Complete the boring tasks…
Yes, every business has a laundry list of "boring" tasks that must be completed prior to opening. Here is a long list of items you should complete prior to opening your coworking space (if you have questions on any of these bullet points individually, we are happy to explain them in greater detail if you reach out):
Name your business

Check your state's business records to see if the name already exists.

Check social media platforms to find the availability of the handle/username.

Check the web domain availability.
Form a legal entity

Sole proprietorship

Partnership

Limited liability company

Corporation
Register for taxes

Register for state and federal taxes

Apply for an EIN
Open a business bank account

Be sure to separate your personal assets from your company's assets.
Get a business credit card

We recommend the following:
Set up your business accounting

QuickBooks online is a great option for tracking financials
Certificate of occupancy

Businesses operating out of a physical location typically require a Certificate of Occupancy (CO).

If you are leasing a space, it is generally the landlord's responsibility to obtain a CO.
Set up a business phone system
7. Choose a software to run your business.
Although a coworking management software may not be a necessity when opening your coworking space, it's still a line item you should consider for improving efficiency and overall management of the space. Some common functions we use a software for at Olio Coworking include:
Member management: Keeping track of members, their membership status, and billing information can be simplified with software.

Booking and scheduling: Members can easily book conference rooms, desks, or other shared spaces through our online booking system, and the software can keep track of availability and send notifications.

Communication: A built-in messaging system can be used to communicate with members and keep them informed about updates, events, and news.

Marketing and promotion: Software can help with promoting the coworking space through targeted email campaigns, social media posts, and other marketing efforts. Many coworking management solutions also have built-in CRMs.
Having a software in place can streamline operations and make it easier to manage a coworking space. But you should also spend time deciphering the best software for you and your new coworking space.
At Olio Coworking, we run on a system called Nexudus. This isn't a promotion for Nexudus, but we do enjoy the comprehensive features, user-friendly interface, customization options, robust integrations, and strong customer support they offer. There are several other good software options available for running a coworking space that you should consider prior to purchasing:
Nexudus: A comprehensive software that covers all the essential features for managing a coworking space, including member management, billing, booking and scheduling, access control, and more.

Proximity Space: A cloud-based software that helps manage all aspects of a coworking space, from member management and billing to booking and access control.

Cobot (one of the most popular): A flexible and user-friendly platform for managing coworking spaces that includes member management, booking and scheduling, access control, and more.
No matter what you choose for your new space, be sure to evaluate your specific needs and choose a software that is a good fit for your coworkers and space design.
8. Start your coworking business.
After all the planning, it's finally time for you to open your brand-new coworking space. The first day of opening your coworking space will be both exciting and nerve-wracking. You'll likely be filled with a mixture of adrenaline and anxiety as you begin welcoming your first members. Stay calm, be friendly, and enjoy the experience.
Focus on the most important task on the first day: Ensure ALL members have a positive experience. Great each member warmly, answer any questions they may have, make sure all technology is working, clean and organize the space to perfection, and shower them with food and drinks.
You'll also want to be prepared for addressing any issues that may arise, such as technical difficulties or broken furniture/fixtures.
But most importantly, the first day of opening a coworking space should be used to network and build relationships with other entrepreneurs, small business owners, freelancers, and other professionals. You should use this time to get to know your new members, find out what they need, and understand what services they would like to see offered in the future.
Building relationships on the first day will help you create a welcoming and supportive community in your coworking space, which is key to a coworking space's long-term success.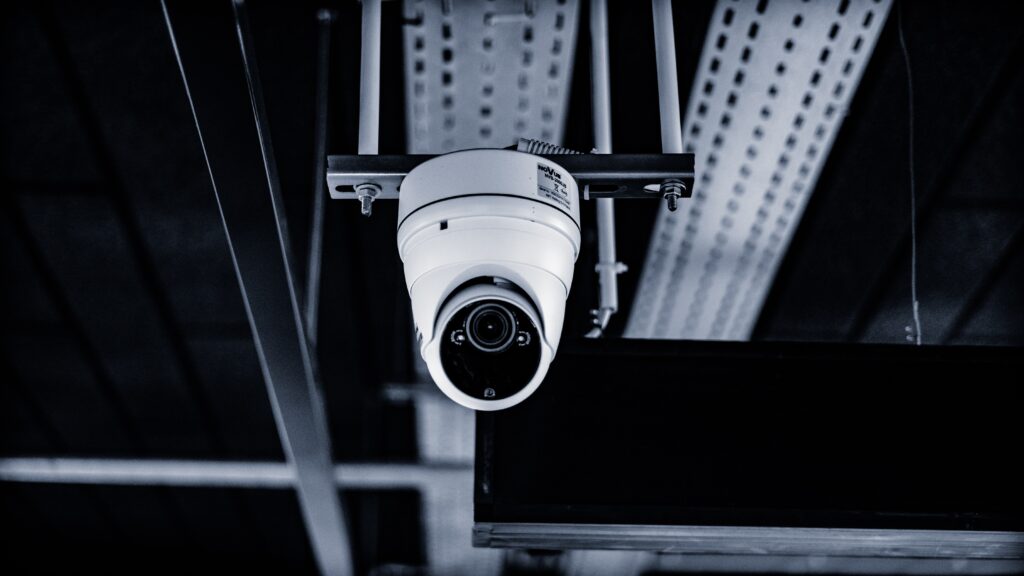 Now that your space is finally up and running, you'll still have a few more small implementations prior to having your new coworking space fully up and running. One of these items is security. Securing your coworking space is important because it is your responsibility to protect assets in the space, protect your members from intruders, create peace of mind for worried coworkers, and maintain a professional image that matches other offices of equivalent value.
To provide proper security to your space, here are a few options we use at Olio Coworking:
Access control systems: Install a card reader, key fobs, or a simple keypad to help control who has access to the building and the different areas within the space.

Surveillance cameras: Install security cameras for real-time monitoring and video recordings of the interior and exterior of the building.

Alarm Systems: Add intrusion alarms and fire alarms to alert authorities and coworkers in the case of an emergency.

Visitor Management Systems: Use a coworking software to keep track of who is entering and exiting the building.
These are some of the security options we use, but the best solution will depend on the specific needs and budget of the space. It's important to assess the risks and vulnerabilities of the space and location the space exists in, and then implement the most appropriate security measures for your coworking space.
10. Build a strong community.
The final step in building your own coworking space is creating a strong community. A strong community acts as the pot of gold at the end of the rainbow. Without a strong community, steps one through nine are useless. People will come and work from your space because they no longer want to work alone in their home. Therefore, it's your job to create a strong community that can provide opportunities for members to network and collaborate with each other, leading to potential new business deals, partnerships and friendships.
It's also your job to form a community that provides support for its members in various ways, such as helping with problem-solving, sharing knowledge and resources, and offering encouragement. A successful coworking space also creates a sense of belonging for coworkers, which improves the overall experience and increases engagement amongst the space. And most importantly, if you do all these things right, a strong community will help increase member retention, as individuals are more likely to stay if they feel connected with the space and the people in it.
In conclusion, opening a coworking space is a great opportunity for individuals and businesses to provide a flexible and collaborative working environment for their community. The process won't be easy, but hopefully these ten steps to opening your own coworking space will you you get started on the right path. 
From all of us at Olio Coworking, we wish you the best of luck and would love to provide any help or advice you desire. Feel free to reach out to us here.